Online Store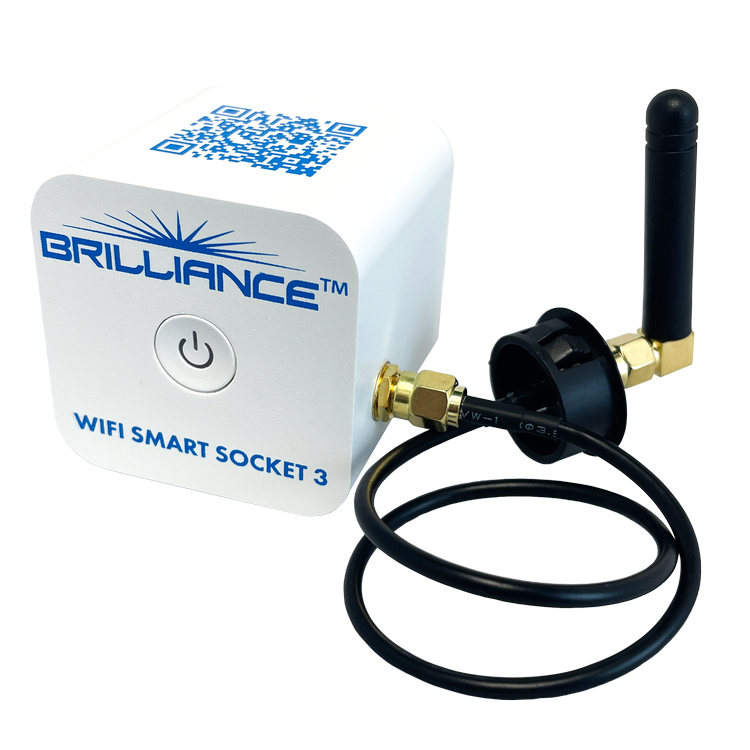 WI-FI SMART SOCKET 3.0
BRI-WiFi-Smart-Socket-3
Product Details
NOTE: The current model in production is Smart Socket 3.0. For the legacy version of this product, Smart Socket 2,0, click here.
The Brilliance Wi-Fi Smart Socket 3.0 is designed specifically to pair with a landscape lighting transformer in lieu of a traditional photocell. Remotely control your entire lighting system from anywhere in the world with the Brilliance Smart app.
FEATURES:
Designed specifically for landscape lighting transformers
New antenna promotes improved Wi-Fi signal
Plugs directly into 120 VAC outlet
Made for indoor or outdoor enclosures
Conformal coating circuits protect against humidity
Control landscape lighting from Brilliance Smart App

Turn on or off from anywhere
Set and change timers
Share devices with family
Use third-party controls like Alexa and Google Assistant

Android and iOS compatible
ETL Listed in US and Canada
Easy access to instructions via QR code on top
| SMART SOCKET 3.0 SPECIFICATIONS | |
| --- | --- |
| Operating Range | 14°F to 104°F |
| Capacity | 10 Amps |
| ETL Listed Mark | 5025307 |
| IP | 61 |
| Warranty (years) | 2 |
TECHNICAL REQUIREMENTS:
Must have consistent 2.4 GHz Wi-Fi signal at the installation location with dBm strength of -70 or better. See the Brilliance Smart Products Guide for more information and troubleshooting. Must be placed in landscape lighting transformer or in a covered receptacle box.
INSTALLATION AND OPERATIONAL INFORMATION:
The new Smart Socket 3.0 design features an antenna. The antenna fits in standard 1/2 inch plug knockouts common on many transformers.
For alternative installations not in a transformer, you can connect the antenna directly to the device port.
For applications the require the device to be installed in a covered receptacle box, you can use the Smart Socket 3.0 without the antenna.
Save this product for later